AKIRA LANE IS KIDNAPPED BY SEX SLAVERS & SUBJECTED
TO A 'KNOCKOUT / FONDLING NIGHTMARE'!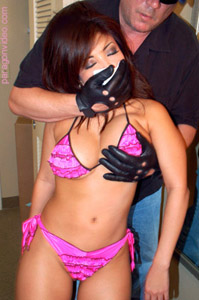 9 min. $8.99
(Windows Media) WMV file - 142 mb
Part 1 of 2

Akira is a model who is posing for a new photographer in her cute hot-pink bikini. She talks cutely for a while then the man tells her he wants her to play a kidnap victim in a new scenario. Akira seems worried but agrees to do it. Then the man tells her she's going to be put to sleep! Akira reacts to his suggestion then is suddenly grabbed from behind! The man's partner clamps a wet & smelly cloth over the Japanese beauty's face and gropes her boobs as she protests cutely and tries to 'gag-talk' her way out of it as she's slowy put to sleep (this scene is SUPER-HOT).
Eventually Akira realises too late that the men do mean business but she is too sleepy to escape and rolls her beautiful eyes in her gorgeous inimitable style, passing out in the man's arms. He throws the unconscious asian cutie over his shoulder and rubs / smacks her lovely buttcheeks as he and his partner make kinky comments about their catch! What follows is a wild display of sleepy fetish action highlighted by Akira's incredibly convincing performance! She is staked and repeatedly smothered to sleep with the cloth, fondled, hand gagged!
Copyright © 2009 gaggedgirls.tv
All rights reserved.