CUTE JAPANESE GIRL MIKO ISN'T GOING TO MAKE IT
TO THE PARTY TONIGHT!
A SLEEP SATLKER TARGETS THE LOVELY ASIAN GIRL
FOR HIS SLEEPY FETISH / FONDLING GAMES OF CAT-AND-MOUSE!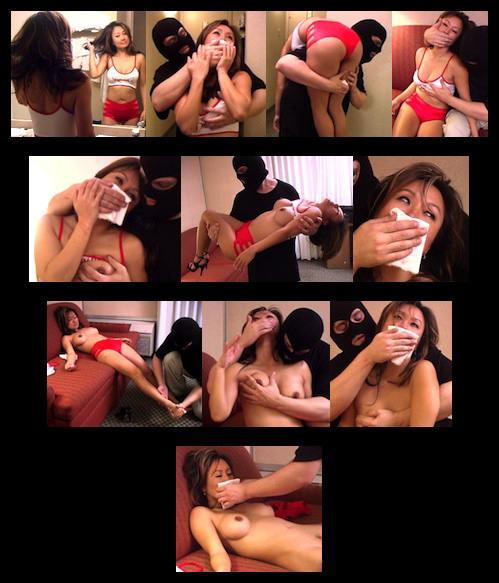 9 min. $7.99
(Windows Media) WMV file - 118 mb

Japanese beauty Miko is getting ready to go to a big party and dresses sexy with a tight silky white top and tight silky red shorts! She checks herself out in the mirror before walking toward the door but an obsessed voyeur has other plans for her lovely body tonight! The hungry fiend jumps the asian beauty and quickly clamps a wet cloth over her face! Miko tries to scream but her cries are muffled as her boobs are hungrily groped by the stalker! He teases his helpless captive as he watches her eyes roll in sleepy ecstacy and when she finally passes out with a sigh he carries her limp body over the shoulder while smacking and rubbing her buttcheeks! The man carries Miko over to her sofa where he continues fondling her with no resistance!
Miko slowly wakes up and is immediately handgagged! She is teased about being so helpless and is subjected to a cruel game of cat-and-mouse where she tries desperately to get away only to be grabbed and smothered into a half-conscious state every time as her beautiful body is groped and is slowly exposed. Eventually Miko is stripped completely naked! Even then her torment continues as she continues to be smothered to sleep and fondled by hungry hands!
Copyright © 2009 gaggedgirls.tv
All rights reserved.