BLONDE CUTIE DANIELLE & BUXOM BRITISH BEAUTY GOLDIE ARE SPY GIRLS CAPTURED BY THE MAN THEY WERE SUPPOSED TO SEDUCE!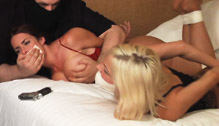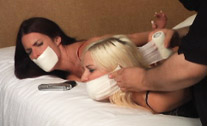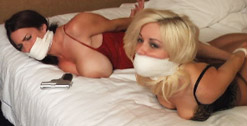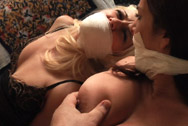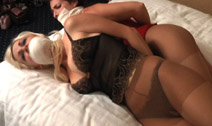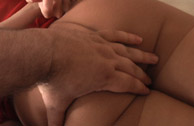 2 cute spy girls (blonde cutie Danielle & beautiful buxom brunette Goldie - both in pantyhose and lingerie) are betrayed by a rogue agent and end up captured by the man they were trying to seduce in their search for information about other missing spy girls! The captive spy girls struggle bound with tape on the man's bed as he enters the room. When they demand to be released the defiant spy girls are handgagged and teased for being discovered and rendered helpless! Danielle's complaining mouth is stuffed with a huge wad of pantyhose and sealed with microfoam tape! She "MMMMMPH"s in gagged dismay as she watches Goldie get gagged as well! The fondling begins as Goldie's big boobs are groped as she protests intensely! The gagged and bound spy girls who are usually confidently in charge of their lives now squirm and cry out through their taped mouths as they try in vain to get free!
When they get too noisy the man increases the severity of their gags by wrapping their mouths with gag-wrap! Quieted but still determined the furious and desperate "MMMMMPH"ing continues and so does the kinky fondling! As the incapacitated spy girls struggle and mummble at the viewer their fate is unknown and the fear shows in their beautiful eyes!
WHAT WILL BECOME OF THE GAGGED SPY GIRLS?
14 min. $11.99
(Windows Media) WMV file - 217 mb

Copyright © 2009 gaggedgirls.tv
All rights reserved.