SULTRY RAVEN HAIRED SAMANTHA & CUTE BLONDE ANGELA - BIKINI MODELS
'CHLOROFORM' ROLEPLAYING FOR A KINKY PHOTOGRAPHER - WINNER GETS THE CONTRACT!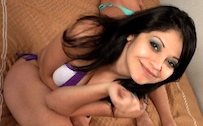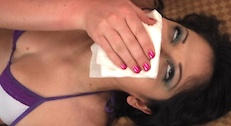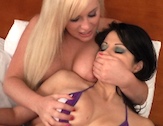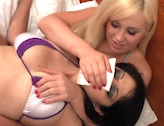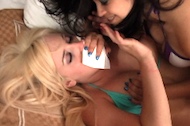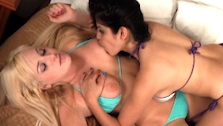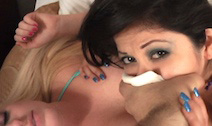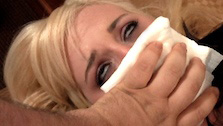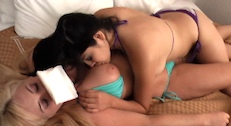 Sexy all-natural brunette Samantha brags about her domination of unconscious blonde cutie Angela who lies on the bed behind her. Samantha is the apparent winner of the kinky photographer's roleplay game where he forces the bikini models to battle each other with chloroform for the lucrative contract he is offering! As Samantha comments on her rival being knocked out Angela slowly wakes up behind her! The dazed blonde grabs the chloroform cloth that was used to drug her and turns the tables on the wicked Samantha!
Poor happy Samantha's day is ruined when she suddenly feels the wet chloroform cloth clamp over her face! Angela quickly takes control of her protesting rival and gropes Samantha's boobs for revenge while the squirming brunette "MMMMMPH"s as she is forced to breathe the sleep inducing fumes! Angela comments on Samantha's helplessness and encourages her to go to sleep! After a few deep breaths of chloroform Samantha slowly passes out in Angela's waiting arms and Angela wastes no time getting her revenge on Samantha's unconscious body!
Angela says kinky things to Samantha as she gropes her plump boobs but eventually Samantha wakes up and catches Angela off guard! Now it's time for Samantha to assert her domination once more! She easily overpowers the weaker blonde Angela and slowly chloroforms her to sleep while groping her boobs as she passes out! Samantha subjects helpless Angela to lots of fondling and even sucks Angela's boobs while she's unconscious!
Samantha's new victory is short-lived as the photographer decides to keep both of the bikini models as his 'chloroform sex slaves'! He suddenly clamps the chloroform cloth over Samantha's gasping face and it's time for her to go back to sleep once again! Samantha passes out beautifully with her face buried in Angela's boobs!
Angela begins to wake up during Samantha's struggle but the chloroform pad is pressed over her face and she too is promptly sent back to Dreamland!
10 min. $9.99
(Windows Media) WMV file - 161 mb
Copyright © 2009 gaggedgirls.tv
All rights reserved.