GORGEOUS (6 FEET TALL) BLONDE AMAZON GIANTESS LIANA IS A BIKINI MODEL CAPTURED, SMOTHERED REPEATEDLY WITH THE SLEEPY CLOTH & GROPED IN THIS INCREDIBLY SEXY SCENE!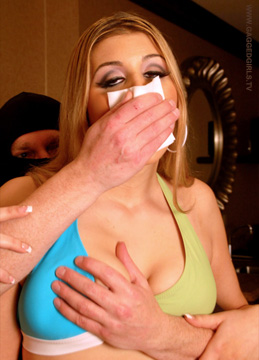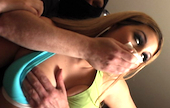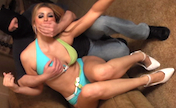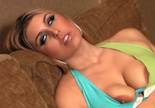 12 min.
$10.99
MP4 - 266 mb
Sexy Amazon giantess (6 feet tall) Liana is a sexy bikini model who likes to tease videographers by posing in sexy ways for them but this time she picks the wrong guy to mess with! When Liana is posing for a bikini video she bends over and shows her ass to this new videographer he puts his hand on her buttcheek which causes her to pull away and she indicates that he can't touch.
She is too distracted to notice the guy's masked partner sneaking up behind her! When he's ready to strike he suddenly clamps a sleepy cloth over her gorgeous face and gropes her boobies from behind! The videographer records the capture of the giant blonde tease and delights in watching her struggle and "MMMMMPH" as she's slowly overpowered by the sleepy cloth!
Gorgeous tall Liana is eventually toppled and slowly passes out in the arms of her captor!
Her sleepy fetish nightmare begins!

FULL DESCRIPTION COMING UP!
DON'T MISS PART 2
Copyright © 2012 gaggedgirls.tv
All rights reserved.