CHRISTINA CARTER - GIRL DETECTIVE IS CAPTURED WHILE TRYING TO BUST WHITE SLAVERY / SEX SLAVERY RING AND ENDS UP A GAGGED GROPED AND KNOCKED OUT CAPTIVE!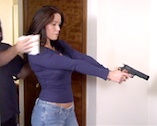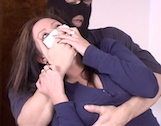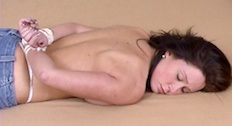 7 min.
$6.99
MP4 - 118mb

This incredibly hot scene is from our very first shoot with Christina Carter before she became well known in the fetish scene. Christina is a feisty buxom blue jean girl detective with a grudge against the white slavers / sex slavers who have been kidnapping her fellow girl detectives. When she investigates their current studio she enters with her trusty gun drawn, ready for action!
The sexy girl detective goes through the studio finding evidence of white slavery activities including a sleepy cloth which she smells to be sure that it is indeed tainted!
While searching the large studio she suddenly finds one of the slavers negotiating a sale for one of the kidnapped girls over the phone so she holds him at gunpoint and questions him! The beautiful overconfident brunette is unaware of another slaver who sneaks up behind her and suddenly smothers her gorgeous face with a sleepy cloth! Christina "MMMMMPH"s in surprise and the man quickly disarms the stunned girl detective! As the lovely buxom girl squirms in his grasp and protests he gropes her boobies and forces her to inhale through the chloro cloth!
Slowly Christina the feisty girl detective is dominated by the powerful chloroform that renders her unconscious and her body becomes the property of the white slavers she had hoped to bust!
Christina is carried over-the-shoulder into another room as her blue jean ass is fondled (total of 3 OTS carrying scenes in the video). When the scene fades back in the man returns carrying chloroformed girl detectiveChristina over-the-shoulder again ...but now she is topless! The unconscious girl detective is layed on a bed and bound by the slaver (partially on-screen).
Eventually Christina wakes up to her new humiliating predicament! Her slave training begins as she endures tight hand gagging, verbal torment and is then gagged with several strips of duct tape! The man has fun fondling the helpless detective girl's lovely boobs and enjoys her feisty, defiant moans of protest. He leaves her to try to get free and watches her from the other room. When Christina eventually gets to her feet she hops around looking for a way out! She finds her trusty gun on the counter but the slaver approaches with cloth in hand!
WILL THE FEISTY GIRL DETECTIVE FREE HERSELF IN TIME TO ESCAPE THE SLEEPY CLOTH?
...OF COURSE NOT!
THIS IS A CLASSIC HIGHLY REQUESTED SCENE OF CHRISTINA CARTER'S EARLY RISE TO FETISH STARDOM!
Copyright © 2017 gaggedgirls.tv
All rights reserved.