PETITE EXOTIC CUTIE EVA GETS KNOCKED OUT TWICE, HEAVILY CLEAVE GAGGED & GROPED!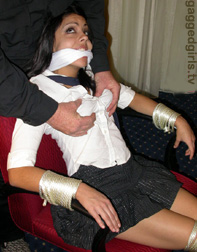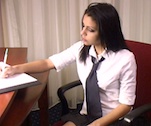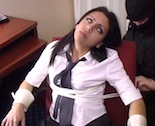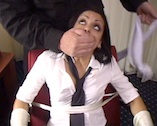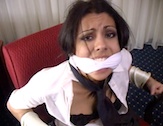 15 min. 30 sec
$10.99
MP4 - 252 mb

Eva is a petite little secretary working overtime for her boss when a spy from a rival company sneaks up behind her and smothers her sweet face with a sleepy cloth! The cute minx struggles in wide-eyed horror as she's heavily fondled and slowly knocked unconscious! The man takes his helpless damsel away for more fondling by carrying her over the shoulder (OTS carrying) and flipping up her short skirt so that he can rub her beautiful round buttcheeks! Eva is bound to an office chair (on-screen) and is given a great boob rubbing to wake her up.
When she slowly comes around the beautiful captive secretary is tightly handgagged and teased about being so helpless! She is asked about secret files but Eva is a good employee who won't tell him so he gags her with a thick strip of cloth to keep her quiet while he searches the office. Eva is fondled and "Mmmmph"s beautifully with a classic helpless look in her eyes as she struggles to get free of her bonds! The man returns occasionally to fondle her some more but finally returns to put the innocent secretary to sleep with his tainted cloth after he finds the files he's looking for!

FEATURING EVA's GORGEOUS SLEEPY / SEXY ROLLING EYES & LOTS OF SWEET PROTESTING!
Copyright © 2012 gaggedgirls.tv
All rights reserved.