STAR GIRL IS KNOCKED OUT TWICE, GAGGED & GROPED BY A FIENDISH MASKED VILLAIN!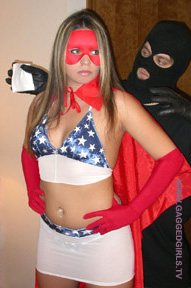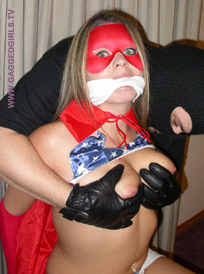 10 min.
$8.99
MP4 - 162 mb

Star Girl is hot on the trail of sinister criminals when she breaks into their hideout and challenges them with all of her super heroine confidence! She then searches their hideout to root out the cowards. Eventually she calls out to them again but suddenly gets a face full of sleepy cloth! One of the masked villains grabs her and tries to knock her out but Star Girl manages to break free and beats him up!

She holds the defeated thug up against the wall and tries to get information out of him ...but the villains are not so easily defeated! He has another trick up his sleeve and Star Girl suddenly finds herself breathing the sleepy fumes again! This time she can't escape and is overpowered / fondled and put to sleep by the villain. He then carries her over the shoulder to a holding room.

Star Girl wakes up and finds herself tied to a chair so she defiantly demands that she be released only to be tightly handgagged by a thug and teased about her predicament! She tries to warn him against holding her captive but the thug ignores her empty threats and tightly cleave gags the helpless super heroine!

Star Girl defiantly mummbles her protests and struggles intensely as her breasts are freely fondled then she's left to struggle for a while. She is just beginning to free herself when the man returns with a bottle and cloth. Star Girl tries to be defiant as he soaks the cloth but she doesn't have much to say when the cloth smothers her gagged mouth into unconscious submission.

SHERRY DELIVERS HER USUAL SEXY PROTESTING / PASSOUT STYLE!
Copyright © 2012 gaggedgirls.tv
All rights reserved.