MAI LY IS AMERANA THE FIESTY SUPERHEROINE WHO MUST BE 'BROKEN' BY BONDAGE TORMENT! HANDGAGGED FOR HER DEFIANCE THE DUCT TAPE BOUND BEAUTY IS GAGGED AND GROPED AS SHE "MMMMMPH"s IN HELPLESS DISMAY! FINALLY THE SUPER DAMSEL IS CHLOROFORMED!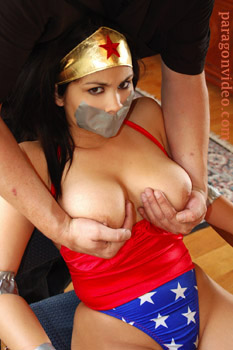 11 min. $9.99
(Windows Media) WMV file - 225 mb

In the next scene Amerana is a kidnapped prisoner bound to a chair with duct tape! The super heroine beauty struggles and demands to be freed but the villain tells her that she's going to have to learn discipline and hand gags her! He lets her speak once more and Amerana gives him a stern warning. Then another man enters the room and begins to fondle the bound super heroine! When she gets more defiant she's hand gagged again! Amerana shows no signs of giving up so she's then gagged with several strips of duct tape! Amerana "MMMMMPH"s heavily as her big boobs are subjected to intensive fondling! She struggles furiously but can't escape her duct tape bondage! The thugs play with their helpless captive while she squirms in gagged dismay! Finally the gagged superheroine beauty is chloroformed to sleep!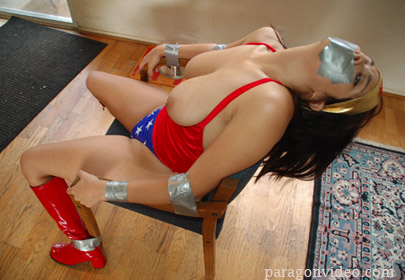 What will become of the gagged super damsel?!?
Copyright © 2010 gaggedgirls.tv
All rights reserved.